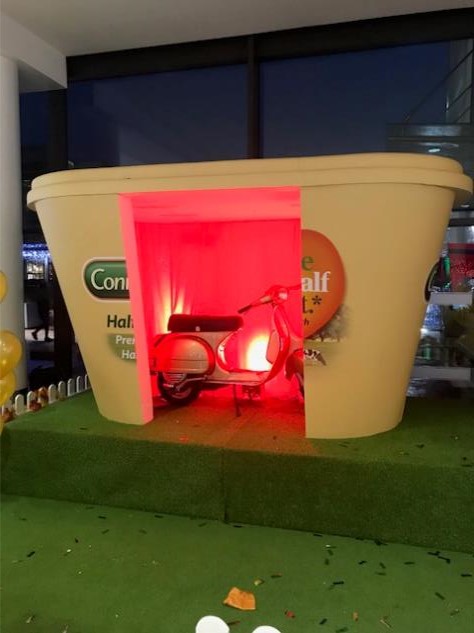 We often get the most weirdly wonderful briefs, and a very challenging yet rewarding side of these projects is that we get to create and produce the most interesting props and builds. 'Can you build a giant butter tub that collapses to reveal a real-life Vespa?'. 'Well, I suppose so? – Actually – Yes, We Can'.
Over the years we've built a fleet of coffee carts that have travelled the length and breadth of the island, produced oversized hurls and sliotars for All Ireland Finals Day, created mini pop-up putting greens and all sorts of target games for an array of different sporting events. These campaigns are always exciting, and because our experiential campaigns are custom made it allows us to push boundaries a little more than traditional media. Brand owners are always on the hunt for something new, and we are uniquely positioned to deliver this for them.
The most recent challenge of late is trying to use the most sustainable materials to align with our own environmental goals and that of our clients, while still maintaining our high production standards. Over the years we have built up a wealth of experience in what works best, how to build it, how the finished product will get from A to B, and finally how it will be assembled when we get there. So, for now, in the words of Bob the Builder, we will continue to say, Yes We Can!